Marla Garland, and Elliot J. Shine[1]
December 9, 2019
---
Summary
Owners of intellectual property ("IP") such as trademarks, copyrights or patents, can benefit from providing public notice of their claimed IP. This article will briefly describe aspects of the legal framework for providing notice and what the benefits are in doing so. For more information, and to learn how laws on marking may affect your own particular circumstances, please contact an experienced attorney.
Patent Marking
---
Patent Pending
---
"
Patent Pending

"

Use of "Patent Pending" alerts the public that your article may soon be protected by patent and once a patent is issued, that the patent owner has the right to initiate a patent infringement lawsuit and seek monetary damages. An applicant may only mark an article with "Patent Pending" after filing a provisional or nonprovisional patent application. Improper use of "Patent Pending" can result in significant penalties and consultation with an experienced patent attorney is recommended before marking your products.
Issued Patents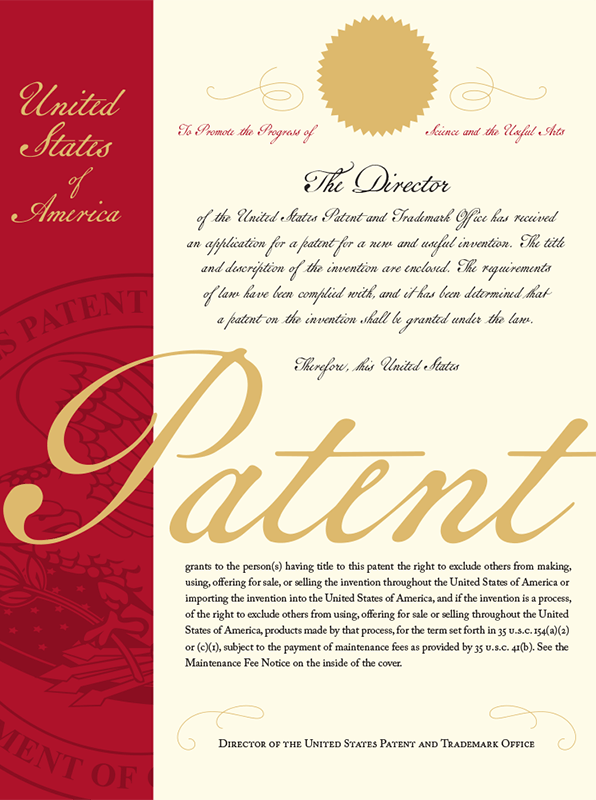 Patent owners should inform the public that a product is patented by "marking," i.e., providing certain information about the patent(s) on the article or its packaging. See 35 U.S.C. §287(a). This serves to identify to the public whether an article is patented,[2] and potentially allowing enhanced damages for willful infringement.
Patent marking follows strict formalities.[3] The product must be marked with the term "Patent" or "Pat." followed by the specific patent number. These marking must be substantially consistent and continuous in order to provide constructive notice to the public, that is, one should mark substantially all products manufactured; and the marking should be continuous over time.
In keeping with the advent of e-commerce, the "American Invents Act" (AIA) provides for virtual marking. Virtual marking requires the article be marked with either "Patent" or "Pat." and instead is followed with an Internet (URL) address that associates the patented product with the patent registration numbers. This is helpful to save costs for manufacturers and to facilitate effective marking of small products.
If the article is of a size or has characteristics that prevent the patent owner from placing the required information on the article itself, the patentee may instead mark the article by fixing it or to its package a label containing the information.[4] In short, if it is possible to mark the product, then it should be marked.[5]

---
Trademark Marking
---
® TM SM
---
Unregistered Trademark
Unlike the requirements to mark an article with "Patent Pending" a prospective trademark applicant may use terms such as "trademark," trademark applied for," and "TM" regardless of whether the mark is registered or has been applied for. Similarly, the "SM" symbol can be used without registration to represent services. Both the "TM" and "SM" symbols indicate a users intent to move forward with obtaining a legal trademark and alert competitors of intent to use the mark for the users business.
Registered Trademark
Once registered with the United States Patent and Trademark Office (USPTO), a trademark owner may give notice that the mark is registered by displaying with the mark the words "Registered in United States Patent and Trademark Office," or the abbreviation "Reg. U.S. Pat. & Tm. Off.," or the letter R enclosed within a circle, ®. If the mark is pending, the registration symbol may not be used.
The registration symbol should be used as a subscript directly after the mark wherever that term appears as a trademark, and particularly on packaging and in publications and printed material. If use of the registration symbol becomes cumbersome, the registration symbol should appear with the mark at least once per page in copy at the most prominent use of the mark, such as in the headline or caption.
Copyright Notice
---
©
---
Copyright notice should be provided with any creative work that is published. Once an individual or author creates a copyrightable work, a "copy right" automatically inures to the benefit of the author. Although notice is not required for marks published after March 1, 1989, notice should still be provided. Registration of ones copyright with the U.S. Copyright Office must be made before one can file an action of copyright infringement.
An effective copyright notice, whether registered or unregistered, should include three elements that can appear as a single continuous statement:
The copyright symbol © (or for phonorecords, the symbol ℗); the word "copyright"; or the abbreviation "copr.";
The year of first publication of the work; and
The name of the copyright owner
Example: © 2017 John Doe[6]
Notice is optional for works published after March 1, 1989. However, providing a copyright notice carries certain benefits, such as:
Allowing potential licensees to contact the copyright owner and negotiate a license agreement.
Possibly preventing a defendant in a copyright infringement action from attempting to limit his or her liability for damages or injunctive relief based on an innocent infringement defense.
Identifying the year of first publication, which may be used to determine the term of copyright protection in the case of an anonymous work, pseudonymous work, or a work made for hire.
Conclusion
Business owners understand the need to carve out a place for their business to operate, thrive and grow, and business owners appreciate the use of intellectual property to protect their competitiveness. Owners of intellectual property can stand to enjoy significant legal benefits if they properly provide notice of their claimed IP. Alternatively, improper notice can involve significant consequences.
This article is only a brief overview of IP marking and was prepared for general informational purposes only. For further information, or any questions regarding intellectual property law, you may call our firm at (212) 681-0800, or e-mail us at info@wyattip.com.
---
[1] The information contained in this article does not constitute legal advice or legal opinion, but has been prepared for general informational purposes only. Any opinions expressed in this article shall not be construed to represent the legal opinion of this firm, its attorneys of any of its clients. The receipt of this article does not create an attorney-client relationship and may constitute attorney advertising. © 2019 Wyatt & Associates
[2] See Nike, Inc. v. Wal-Mart Stores, Inc., 138 F.3d 1437, 1443 (Fed. Cir. 1998). ("The marking statute serves three related purposes: 1) helping to avoid innocent infringement, 2) encouraging patentees to give notice to the public that the article is patented, and 3) aiding the public to identify whether an article is patented.").
[3] See, 35 U.S.C. §287(a) (2012).
[4] See, Id.
[5] See, Stryker Corp. v. Intermedics Orthopedics, Inc., 891 F. Supp. 751, 860 (E.D.N.Y. 1995), aff'd, 96 F.3d 1409 (Fed. Cir. 1996). ("[T]he evidence shows that the patent mark was put in literature describing the Omniflex, which was then freely distributed to surgeons, nurses, hospital personnel, and anyone that asked for them, separately from the Omniflex devices themselves. This type of constructive notice is insufficient under the statute, as a matter of law.").
[6] See Copyright Notice, Cir. 3 (2017), available at https://www.copyright.gov/circs/circ03.pdf (Accessed Nov. 18, 2019).